Our Services:
Renting out
APURAservices GmbH takes care of the marketing of your property. Especially in the UN city Bonn, but also in other big cities, an understanding of our international clients' needs is indispensable in matching high-quality apartments with the fitting clientele. Over the years we have worked for many landlords – nationally as well as internationally. More Information...
Selling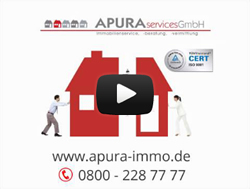 Private individuals usually sell property not more than once or twice in a lifetime. Since your property is probably one of your most valuable assets, get it right the first (and perhaps only) time and hire an expert. Customer feedback.
Choose one of our 3 service packages, which guarantee performance tailored to your need.
Apura will assist you during the entire sales process, right until the signing of the sales contract.
APURA Check
Protect the value of your property and avoid unnecessary costs with APURA Check:
APURAservices can take care of every kind of experts' report:
Energy Performance Certificates, testing of the pipes etc.

By having a third party evaluate your property, you will be able to provide more trust and safety and thus you will be able to facilitate negotiations with potential buyers. Your property will stand out and help you sell faster.More Information ...