Leasing is a matter of trust
Over the years we have worked for many landlords-with great positive feedback.
The leasing process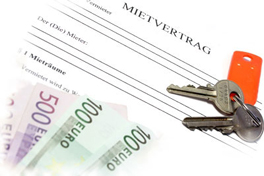 We add your property to our data base and help you decide on how much rent to charge in order to be as profitable as possible in the long term. We create a checklist and discuss each bullet point with you.
Next, we evaluate the incoming requests and summarize the results for you. We support you the contract negotiations and help you with any questions you may have with respect to the composition of the leasing contract.
Just as with selling, we also offer our Model 1 for leasing. This means that you can show your property to potential buyers yourself and that the commission will merely amount to one monthly rent plus VAT.
In case you would like us to show potential buyers around your property for you, the price will amount to two monthly rents plus VAT.
APURAservices GmbH takes care of the marketing of your property. Especially in the UN city Bonn, but also in other big cities, an understanding of our international clients' needs is indispensable in matching high-quality apartments with the fitting clientele.