We stand for quality and transparency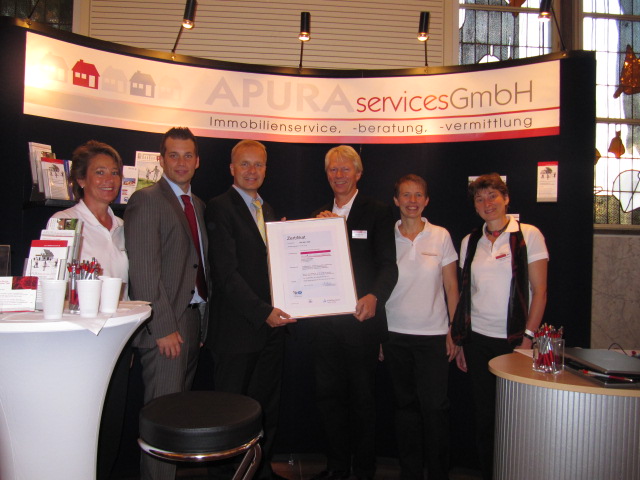 At present, the APURAservices is the only real-estate agent in North Rhine-Westphalia that has the certification according to ISO 9001. With this certificate, the TÜV-Rheinland confirms, that APURAservices fulfils this demanding standard.
The certification includes several processes:
Real estate service, consulting and mediating with individual customer contracts, competitor analysis, premium brochures/presentations, as well as online tracking with insight into the personal real estate file.

What makes the TÜV-certification so special?
As CEO Ralf Goessler points out, the term real estate agent is not legally protected in Germany. There is neither a requirement of a proof of suitability for practising the occupation nor a requirement for professional training. The German real estate broker merely needs the registration of a business and an official authorization in accordance with §34 c of the industrial code to perform his job. This means that basically anybody can run a real estate agency without any special qualification.

This led to a tarnished reputation of the branch of brokerage during the last few years. The APURAservices was founded by homeowners in order to offer a transparent and high-quality service.
Requirements
In order to be certified according to ISO 9001 by TÜV-Rheinland, APURAservices must necessarily meet certain preconditions. According to CEO Ralf Goessler, there is a business manual with a checklist showing how the employees are supposed to behave in different situations, as e.g. a consultation, taking down of a property or data update in the online system. This is controlled during regular audits by TÜV-staff.
"Throughout the use of the checklist, we experience a high degree of self-control which of course is beneficial for our clients." Besides, the APURAservices GmbH has to examine customer satisfaction in persistent enquiries. Furthermore, the certificate confirms that the company's personnel are qualified and steadily participate in further training. The certificate promises the maintaining of standards on high level, an important requirement in the customer-oriented service sector.